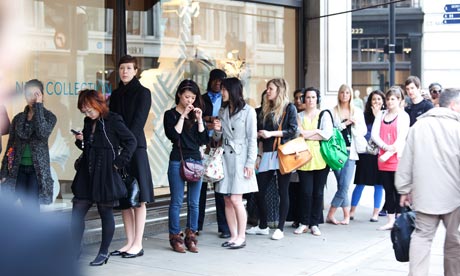 Saturday morning, 8:45 a.m. (the shops opened at 8:30 here in Zurich, but I was sure I had to wait to get in anyway, so... ), I arrive at one of the main H&M affiliates in town.
A queue is very Swiss-German-like patiently waiting to get in. A big guy in tie, in front of the entry, decides who can enter the shop and when.
I walk on to the second H&M (same street, just 2 minutes far away by walking): the second shop is open too, but no queue stands outside. "Cool! I'll stay here!", I say to my self, and enter the Promised Land for shoe addicts full of expectations. Thirty seconds later, in the shop, I'm in front of it: the crazy crowd. They're hungry and angry and scary...and, what's worse, they're women! And we all know how a woman can become in front of a nice, good shoe, don't we, girls? Don't get me wrong: I get just the same attitude in front of a nice, good shoe. The thing is: I can't see any nice nor good shoe in here...
"Ehm, sorry m'am? Is this the Jimmy Choo collection?...Oh...I see...Yeah, I know we're in a H&M store...but, I mean...The prices are neither H&M nor Jimmy Choo, but the quality is pretty H&M-like...so, you know, I don't really get ...I mean I was wondering..." I just stop arguing with the imaginary salesgirl (I don't manage to talk to a real one: they're just too busy screaming on the microphone that the customers in the accessories area have two minutes left to grab some pair of shoe and move on in order to let the next costumers, those with the yellow ticket, because the red ones come afterwards) and decide to watch the funny scene around me. Chaotic, but, I have to say, we Swiss really are nice people, I mean, have you seen the video made in Frankfurt?
If you haven't yet, take a look and tell me, is the fuzz really worth it?
http://www.youtube.com/watch?v=IP1a3VG69zg
Results of my Jimmy-Choo-at-H&M action: I don't buy anything at all. First of all, because I don't like the shoes that much, second of all, the prices are way to high for what they're offering, that is low quality and average design shoes.
In the afternoon my beloved boyfriend calls me: "Hey, how did it go with that... that...Jonny Who thing at H&M?"
...Ok yes, my boyfriend really isn't a master in fashion knowledge. But frankly said...it could have been some "Jonny Who" collection in there, 'cause I haven't happen to see anything that had to do with the great taste of Jimmy Choo in that shop.
For those of you who speak German, an interesting link full of comments on Jimmy Choo at H&M, both positive and negative:
http://www.lesmads.de/2009/11/jimmy_choo_fur_hm_heutiger_verkaufsstart.html
And here is another interesting article (this time in English):
http://www.dailymail.co.uk/news/article-1227847/Thousands-queue-80-Jimmy-Choos--pity-man-waited-12-1-2-hours-girlfriend.html
Oh, Jonny Who...I though it was about Jimmy Choo...
Picture: static.guim.co.uk